| | | |
| --- | --- | --- |
| All it takes | | is a little love |
Some of the animals listed on this site are healthy, loving, young animals
that need a home. They are usually not puppies, but adult dogs who have,
for some reason, lost their homes.
What Are Rescues and what
can a Rescue do for me?
A
Rescue
Entitles
Someone
Caring
Unlimited
Endless
Satisfaction
The Rescue animals on this site are listed by State/Country and within each states page the breeds are listed in alphabetical order. The information for them, contact information,
before and after pictures (if available) are listed for each dog under it's breed.
This site is providing a place for listing rescue animals looking for a new home free of charge. Please make all inquires pertaining to a rescue animal directly to the group or organization that is listed as the contact for the rescue listed.
Please click on the link below to enter the rescue pages.

The Rescue Resource Philosophy:
We Will help anyone, or any group, with their rescue animals
regardless of their "Status". This effort is for the benefit of the animals.

We raise funds to purchase dogs from Kennel disbursal sales or Kennel closeouts. At the completion of
the sale the kennel submits their USDA license and are no longer in business.
Do you want to help Rescues, but don't know what you can do.
Do you need a website?
Get your website done by Web Designs by Diamond and let me know who referred you PMRescue, or Yorkies Galore Website and I will donate
20% of the cost of your site design to the rescue.
Visit Web Designs by diamond or e-mail me for more information



We can make a difference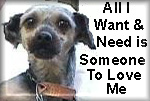 1 day & 1 dog at a time.
Click on the graphic to
Join and or Support
The Rescue Resource Web Ring
Questions or comments about this site
Please E-mail us.
Disclaimer

The Rescue Resource has made every effort to insure the accuracy of this information, provided "as is," with all faults and without warranty of any kind, expressed or implied. In no event shall the Editor or any Rescue Resource Representative be liable for any incidental or consequential damages, lost profits, or any indirect damages even if The Rescue Resource has been informed of the possibility thereof.
This Site was created by:



(Any New Web Design Contracts I obtain from this site, please mention this site name when you contact me, and I will donate 20% of the contract price to the rescue)
&


Feel Free To Visit Our Sites
Copyright March 31, 1999. All rights reserved.
Web Designs by Diamond & Designer Pet Beds
Please do not remove anything from these pages without owners consent
Thank you.
A Special thanks to the members of the YPP & YL for having a place in your hearts to care about these animals and helping us to spread the word of this site and the little ones listed here.
Tammie & Jean
Sponsors: