Montana Rescues
Old English Sheepdog: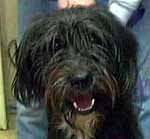 Archie --OES/Lab mix, black/white, Male neutered, 1 Yr OWNER TURN IN: 3/25/99 [HSGV001256] Returned to shelter because owner having personal problems. Good w/ cats, dogs, kids, housebroken, playful, very enegetic, friendly. Can jump fence. Needs some work on leash training. Archie is currently at the Humane Society of Gallatin Valley in Bozeman, Montana. Contact Mary Piper (406)587-6381 hmpiper@mcn.net or the humane society at (406)587-0456
Abbey --Female OES, abandoned on airforce base in Montana, recently had pups (no-where to be found), has tail, housebroken, crate-trained, very social, great with my 2 small kids, badly matted coat when found so is now shaved, healthy but has slight underbite. She is o.k. with my 4 dogs but a little dominant, seems fine with cats also. Contact Mary Piper with any questions at (406)587-6381 hmpiper@mcn.net.