Requirements for joining
Submission Form
"HTML" ring code
Web Ring Logo appearance
Join The Rescue Resource WebRing
What is the Rescue Resource Web Ring?
The Rescue Resource, are people who care enough to share their time and their lives to help save those that can't help themselves. We want to educate the public about all the dogs in need of love and a home through our web sites, and to find homes for the dogs currently in need of a home. This Web Ring represents the caring people and loving animals in need. You can help us in this effort if you are a rescue organization by joining our web ring to help find homes for these little loves. Please show your support by joining our web ring and help our effort to get all rescues placed in good loving homes
If you are not a rescue group or organization but would still like to be a part of helping to educate the public of the large number of dogs needing a home and show where animals that come from pet stores, and PuppyMills usually end up, you are welcome to save the support graphic at the bottom of this page and link to this site to show your support.
Requirements to join The Rescue Resource Web Ring:
To join the Rescue Resource Web Ring, you MUST have a rescue related site that is responsible for the rescue of or the placement of rescued dogs.

You MUST have the HTML ring code on your page before you will be inserted into the ring.

You have 14 days to add the HTML fragment code correctly to your site or you will be deleted automatically from the Queue.

Place HTML ring code on the page you register or on a page that is linked to from the page you registered.
It must be easy to find, I do not have a lot of time to search for it.

If you remove the code from your site, your site will be removed from the ring.

DO NOT apply if your site is not built. Your listing will be removed, if this is the case, regardless of the site or site's owner.

Please UNDERSTAND that all sites are reviewed before they are added to the Ring. If your site is in violation of, or does not meet the requirements of any of the above rules, your site will not be added to the Ring.

The above qualifications can be changed at any time without notice
Webrings and Yahoo have now merged so to join any ring you must go to yahoo and get your own ID and password.
Go to this page to join Rescue Resource and if you are already a yahoo member you can use your current ID and password to join. If you are not it will ask you to sign up for one during the process.
Get the HTML ring code from you Yahoo Webring.... my rings.
All rings you are in will be automatically added from 1 code,
when you join and are approved.
The Rescue Resource Web Ring Logo
Your ring will look like this on your page after you add your code,
(Except) it will have your Yahoo ID in the code.. So do NOT copy
the ring code from this page as it will not work on your site.
Edit your site information from your yahoo lD log in .. my sites area
Questions: Contact The RingMaster
Show your support:
Save this graphic and link it to this site to show your support for all those who are helping the little ones
in need of love and a home. Link the graphic to: https://members.tripod.com/~rescues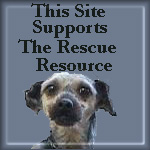 Go to a Random Site in the ring | List All Sites in the ring